Love & Light Altar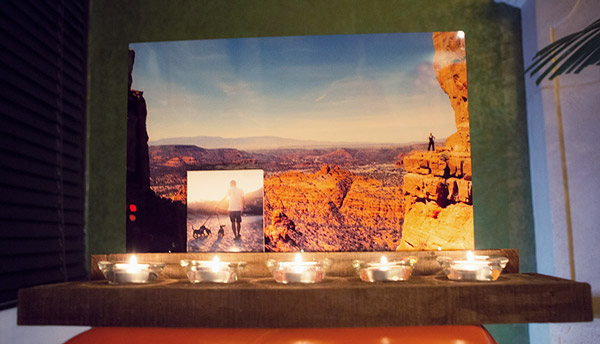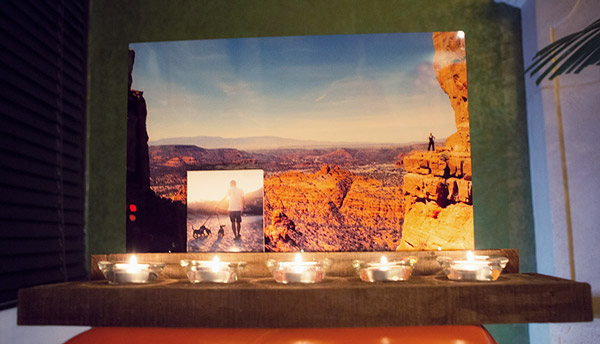 LIMITED FIRST EDITION - ONLY 125 ORIGINALS CREATED
This unique an beautiful altar was designed to share and bring love and light into your life & home or workplace. It is especially poignant as a gift to someone who you feel spreads love and light in your life and to others. Your photos or original drawing, painting, computer art, or children's art will look phenomenal in one of these preeeeety displays! Perfect for meditation items, quotes or vision boarding to light up your intention - literally!
Each altar comes standard with a reversible magnetic steel plate -- one side chalk board, the other textured steel, set of rare-earth magnets in a routed channel along the back, it holds a place of honor atop the gorgeous reclaimed wood base. They were designed to hold this DIY metal plate but are also modular, designed to fit/display gorgeous metal and mounted prints. The metal prints are simply stunning and when lit = pure magic!
Special images become REAAALLY special when transformed into a mixed-media piece of artwork to enjoy in your home or workplace. It also makes a wonderful and unique gift that is SO great -- since inception, these have been used as a tribute or memorial to someone who has passed, to commemorate a big life moment such as the birth of a child, anniversary, wedding, Mother's/Father's Day, career achievement and more.
Click here for the full-story on how a pretty peacock inspired the design. :)
Original design by Robyn Davis. Woodworking by Rescued Wood Designer/Carpenter, Bart Solhjem.
EACH ALTAR INCLUDES:
Reversible Textured Steel Back Plate/Chalkboard + Rare earth super-strong magnets
Reclaimed Wood Base w/hand-made mercury glass votives w/candles.
Orange Envelope & Blank Card for Gifting, poems, intentions, etc.
A little blessing for a happy journey and cleared of any bad-ju-ju with Sage, Cedar & Palo Santo. :)
The good night of sleep you are going to get, knowing you didn't buy any more mass-produced plastic junk and you created anywhere from 3-5 "Green Jobs" for artists, builders and craftspeople. :)
AND, JUST AN FYI: A donation of 11% of first 100 Altars sold will be donated in support of Awakening Code Radio (Public Radio) on KX93.5 FM Laguna Beach, for sorta sharing the journey with me when I created this piece, their loving support and shout-outs and for spreading Light and Love each week through their show, podcasts and FB page. Keep it up guys, the flame is spreading! <3
$11 FLAT-RATE SHIPPING